OEM Wheels Factory Rims – Dealer Take Off
This is some of our remaining inventory of new and used dealer take off wheels, tires, Jeep bumpers, Chevy Silverado grills and lug nuts.  All sales are final and pickup is suggested but will ship at buyer's expense.
NO SENSORS, NO LUGS INCLUDED.  
Below are some select used or replacement / spare wheels and wheels and tires.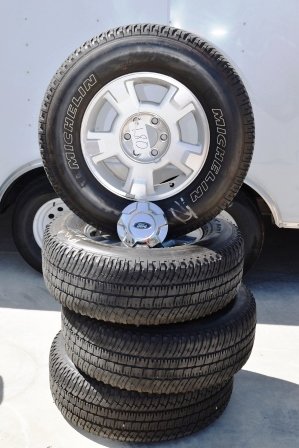 Ford F150 OEM Wheels and Tires For Sale - $400 plus shipping.
Ford F150 17 inch aluminum wheels with Michelin AT Tires – about 70% tread left.  No sensors, no lug nuts.
OEM Dealer Take Off Factory Wheels and Tires
After many years in business thank you to our many customers.  I have decided to close my business and liqudate our remaining stock in East Texas.