OEM Wheels | Factory OEM Wheels & Tires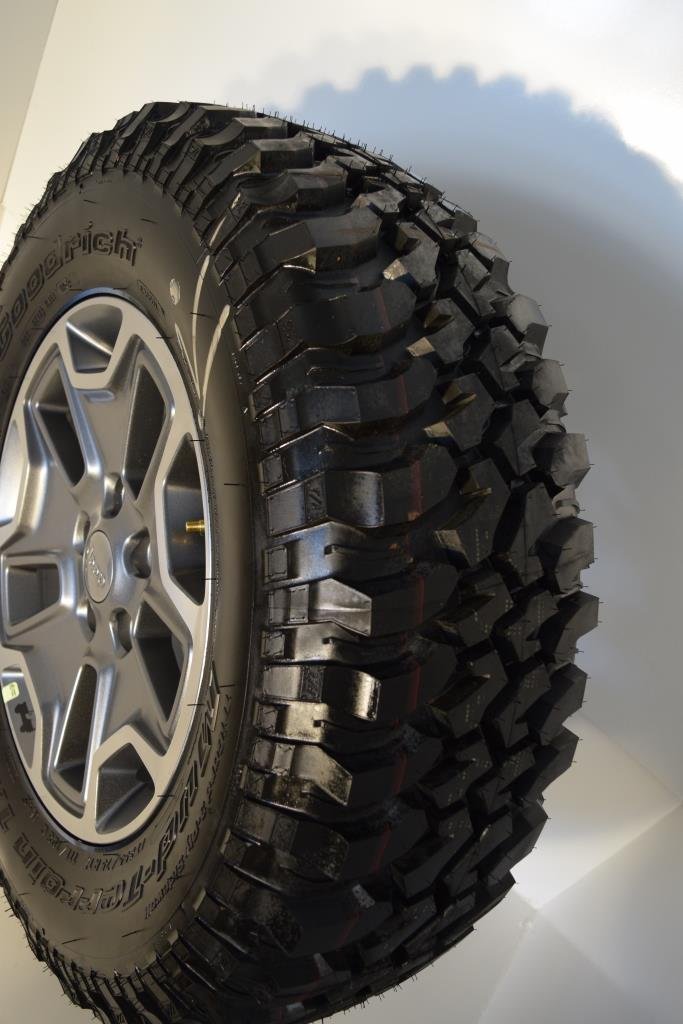 Travel Coach and Travel Agent Services
Travel Agent and Travel Coach services for individuals and groups wanting help putting together the perfect honeymoon, anniversary, wedding or large group trips.
We have personal experiences in many countries and cities including the following.  My wife and I do this as our one passion in life, other than the grandkids of course.
France: Paris, Bordeaux, Normandy, Nice and the French Alps
Spain: Valencia, Madrid, Barcelona and Ibiza
Italy: Venice, Cortona, Milan, Rome, Naples, Praiano, Positano, Pisa and Lake Como
Monaco
Switzerland: Geneva, Martigny, Sion and Zermatt
Costa Rica: San Jose, Tortuguero, Jaco, Manuel Antonio, Mount Arenal ( La Fortuna), Tamarindo
Mexico: Cancun, Puerto Vallarta, San Poncho, Merida, Cabo San Lucas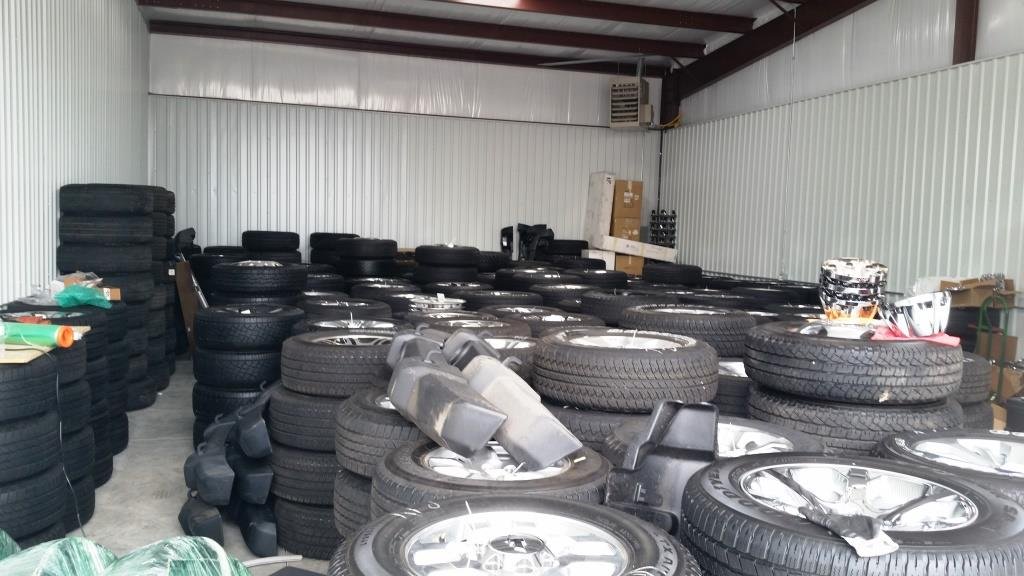 Newcastle Oklahoma Wheel Tire Inventory
Newcastle Oklahoma OEM Factory Wheels Tire Inventory
We stock over 160 sets of dealer take off like new oem wheels and tires, most with less than 50 miles.  We do get a few used trade ins also.
We keep many Chevy 20 inch, 18 inch and 17 inch oem wheels and tire sets in stock for your Silverado, Tahoe, Suburban or Avalance vehicles that fit most from 1999 to 2015 models.
We have a nice selection of Ford F150, F250 and F350 wheels and tires including F150 rims and tires, F250 and F350 including dually wheels and tires.
Dodge Laramie Longhorn wheels and tires as well as Dodge Ram 1500 factory chrome clad wheels and tires in stock as well.
Jeep Wrangler Rubicon wheels and tires, front and rear bumpers in stock now.
Call us for anything you might want or need.
OEM Factory Dealer Take Off Tires and Wheels Packages

If you don't see what you want, please call.  At times we stay so busy we don't get our newest inventory online before it sells.
NONE OF OUR WHEELS AND TIRES HAVE TPMS SENSORS
If you see wheels only that you want, we will usually sell and ship those also.
Chevrolet Silverado Tahoe Suburban 18 inch OEM Factory Wheels
Chevrolet 18 inch Factory Wheels and Tires for Sale – Dealer Take Offs
Chevy 18 inch Silverado Tahoe and Suburban oem factory wheels and tires packages:
Solid spoke with Goodyear white letter tires for sale – $795 sales price cash, $850 credit – pickup in Prosper Texas just north of Dallas Tx or in Newcastle Oklahoma just south of Oklahoma City.  Take Your Pick!
Chevy 20 inch Silverado, Tahoe or Suburban Polish wheels and tires.  Factory rims with Goodyear tires. Price $ 1499
Chevy 20 Inch Silverado, Tahoe or Suburban Chrome oem wheels and tire package with Goodyear tires.  Price $1499
2015 Chevrolet Silverado High Country OEM Wheels and Tires – Price is $1,599
Chevrolet Silverado 2500 HD Wheels and Tires – Dealer Take off chrome or polish finish with Michelin LT 265 70R18 AT2 tires.  Polish $1200.  Chrome price $1250
Chevy 3500 Dually Wheels and Tire sets.  Polished wheels with steel inner dually wheels.  Michelin LT 235 80R17.  2015 Chevy 35oo Dually set price is $ 1,999.  2014 Chevy 3500 Dually wheels tires set is $1,899 because of one scratch.
Chevrolet Silverado Tahoe 17 inch wheels and tires sets – oem factory wheels $725 per set.
See all of our Chevrolet Dealer Take Off OEM factory wheels and tires.
Ford OEM Wheels, Rims Tires - F150, F250, F350
Ford OEM Factory Dealer Take Off including 20 inch Ford F150 F250 Platnium, Chrome or Alloy Wheels
2015 Ford F250 Platnium OEM Wheels and Michelin tire package – Price $1599.
Ford F150 OEM wheels and tires including this Ford F150 STX dealer take off set $1,599.
Ford F150  17 inch oem wheels and Michelin Tires: $899
2015 Ford F250 OEM Chrome Wheels with Toyo Open Country tires: $1,799 price. SOLD
2015 Ford F150 20 inch OEM wheels and tire package Goodyear Wrangler Kevlar tires $1,599.
2015 Ford F150 20 inch oem wheels Platinum with Hankook Dynapro tires $1,550 SOLD
2015 Ford F150 20 inch oem grey wheels with Pirelli Scorpion ATR tires (demo with 947 miles)
Price on sale now  $ 1, 399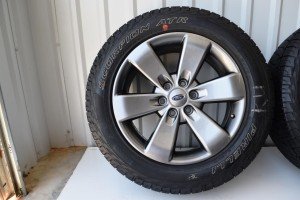 See all of our oem factory Ford wheels and tire packages.
Jeep OEM Dealer Take Off wheels and tires
Jeep Wrangler Rubicon, Sahara and Sport OEM Factory Wheels and Tires For Sale
2014 Jeep Wrangler Rubicon greys (below) price is $1,199.  SOLD OUT Fits 2007 to 2015 Jeep Wranglers.
2015 Jeep Wrangler Rubicon Rock Hard black with machine polish 17 inch with BFG Mud tires  $1,499.  SOLD OUT.
2015 Jeep Wrangler Black OEM Call of Duty wheels and Goodyear Wrangler Silent Armour Tech tires  $999.
2015 Jeep Wrangler Sahara OEM wheels and tire packages $899 for set of 5.
2015 Jeep Wrangler Wheels and Tires for Sale – $699 for set of 5.
2015 Jeep Wrangler Chrome OEM Wheels and tires for sale – $899 for set of 5.
2015 Jeep steel 16 inch oem factory wheels and tires $350 for set of 5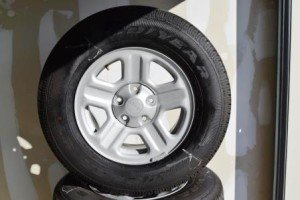 See all of our Jeep inventory.
Steven Goss Travel Services
Travel Agency – Cruises, Honeymoon, Bachelorette, Bachelor parties, Dental Vacation, Medical Vacations
Specializing in anniversary trips, group tours, dental and medical tourists, bachelor and bachelorette parties, hunting and fishing trips as well as cruises. Our specialties are trips to Costa Rica, Mexico, Europe with an emphasis on Italy, Central America and South America.
More Info
Travel Coach / Agent Services
Cruises
Cruise specials including Caribbean, Mediterranean, Bahamas, Mexico, Viking River Cruises in Europe.
Hotels
Get great rates on hotels by booking yourself through Steven Goss Travel.
All Inclusive Trips
Get great all inclusive resort deals through Steven Goss travel throughout Mexico, Costa Rica, Bahamas, South America.
Dental Vacations
Dental Vacations to Mexico and Costa Rica saving you thousands of dollars.  Save 50% to 80% on crowns, implants, dentures or whole mouth restoration.  Excellent quality of care, safe state of the art clinics.
Medical Vacations
Save 50% to 80% on knee replacements, breast enhancements, tummy tucks, reductions, face lifts.  Excellent quality of care, clean state of the art medical facilities at huge savings.
Specialty Trips
Bachelor and Bachelorette parties to Cancun Mexico, Costa Rica, Las Vegas and other special destinations.  Custom packages can include airfare, hotels or private rentals, excursions and entertainment.
Beach Destinations
Book your beach getaway trip now to Mexico, Costa Rica, Brazil, Bahamas, Dominican Republic or really expand your horizons by visiting a beach in Croatia, Spain, Greece or Italy.
Get Info
Cruise Destinations
Enjoy a Caribbean Cruise out of Galveston Texas, Miami Florida or New Orleans Louisiana to the Bahamas, Mexico or Rotan Honduras.  Mediterranean cruises or Viking River cruises including Germany River cruises are amazing.  See Alaska on one of our Alaskan cruise lines.
Get Cruise Info
Europe Trips
Visit the Duomo Santa Maria del Fiore Cathedral in Florence Italy, the streets of water in Venice, see ancient Rome, the hills of Tuscany or the Blue Grotto in Capri off the amazing Amalfi Coast.
Get Info
Specialty trips including dental & medical vacations, bachelor & bachelorette parties and anniversary trips.
Bachelor / Bachelorette Parties
 Enjoy Cancun Mexico, Costa Rica, Las Vegas or other fun flings before the ring.
Dental / Medical Vacations
Save thousands of dollars on crowns, dentures, implants, face lifts, knee replacements, breast procedures.
Anniversary Trips
Let us plan your entire anniversary trip down to the right wines and roses.