Chevy Silverado Headlights for sale - OEM Silverado factory oem dealer take offs
Chevy Silverado Headlights – 2014 Chevy 1500 Silverado Headlights 2015 Chevy 1500 For Sale
Chevy Silverado headlights that have most likely never been used, these are dealership take of factory oem gm products.  Buy them at 60% of dealership GM costs.  If you are a body shop or Chevy 1500 Silverado owner needing one or more headlights, give us a call to our location outside of Dallas, Tx.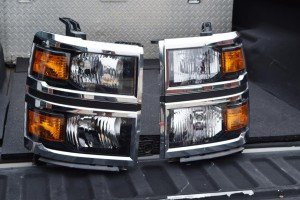 972-347-4412
Price: $600 Set of two – left and right headlights   $350 each.   These are LT, not projector LED's.
Shipping costs are $45.  Free pickup near our Oklahoma City location in Newcastle Oklahoma.  These are great for body shops to replace 2014 and 2015 Chevy Silverado LT pickups with a Chevy Silverado Grill that is like new quality with just a few scratches or dings at a fraction of the dealership price..
Chevy Silverado Headlights
Chevy Silverado Headlights For Sale
Please use these lists as a guide and verify with your own independent sources if these chevy factory headlights will fit your Chevy Silverado vehicle before ordering.  Please also check read our policies before ordering.