Used Wheels Tires Dallas Texas area
Used Wheels Tires East of Dallas Texas in Point Tx – For Sale – Full sets of used Fleet Vehicle take offs for sale, used dealer take offs oem wheels, wheels and tires.  Call us for a shipping and credit card price quote.
Please review our terms and conditions before purchasing.
We have a number of quality used wheels tires for sale off of Chevy Silverado Pickups, Tahoes, Jeep Wranglers, Ford F150 and F250 pickups and Dodge Ram 1500 Pickups in stock.  These are mostly high quality used oem factory wheels and used tires.  Some have less than 1000 miles on them, others have decent tread left.  A few are being sold basically for the wheels only.  Most of these were off a fleet of used fleet vehicles that were being sent to auction and I bought the used factory wheels and tires from the custom shop they used. As always with any of our sets, there are no lug nuts, no TPMS, (tire pressure monitor sensors).  Be sure and look at each picture and description closely as these are used to expects scratches, defects, rubs, rash etc on wheels.
       We have about a two dozen used sets for sale including these below:
Used Wheels Tires East Dallas Texas area near Point Tx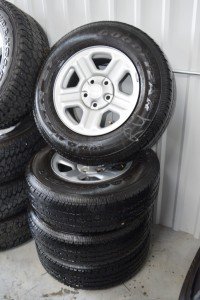 Jeep 16 inch steel wheels and tires (set of 4) – tires are only 6 to 7/32nds – Cash and carry price $75 (set of 5 new available for $350)  Lot 19
Three sets of 16 inch Jeep steel wheels (set of 4) with GY Wrangler ST P225 75r16 tires.  5 to 6 32nds tread depth – $75 cash and carry price.
Ford F150 6 lug (fits most 6 lug Ford F150s, Expeditions, etc. from 2005 to 2016.  Nice Michelin LTX P265 75R17 with 12/32nds (14 new).  Includes Center Caps.  $500 a set.  One last set in stock now. Ref. # 180