Description
Jeep Wrangler Front Bumper OEM fits Jeep Wrangler Sport, Rubicons, Sahara from 2007 to 2016 models.
Jeep Wrangler Front Bumper OEM for sale.  These are dealer take offs and in very good condition.  We have four with mounting brackets and light kits installed, two without mounting brackets but have light kits and one with no light kits.  FREIGHT SHIPPING IS INCLUDED.  These will be required to be shipped freight to either a business with a forklift or to the nearest terminal that you can go pick them up.  We can ship these UPS Ground at an additional cost, please call first for your shipping quote.  These will fit the 2007 to 2016 year models of Jeep Wrangler Sport, Jeep Sahara, Jeep Rubicons.  These are 8 inches X 72 inches X 11 inches and weight 37 lbs.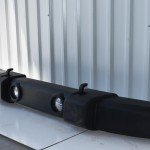 As always, check out our terms and conditions before purchase.