Description
Kia Rio 15 inch wheels – 15 inch rims tire package – Factory OEM Wheels 2012-2015 – Dealer Take Off
Kia Rio 15 inch oem rims and tire package.  Dealer take off 2015 Kia Rio wheels with Kumho P185 65R15 Solus KH25 like new tires.
FREE SHIPPING TO LOWER 48 CONTIGUOUS STATES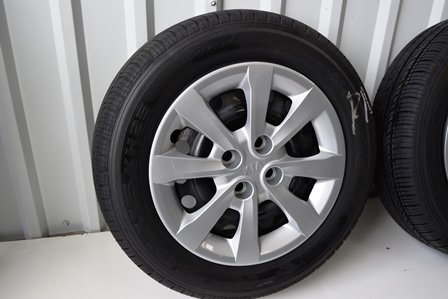 Kia Rio 15 inch OEM Factory wheels and tires – Fits 2012 2013 2014 2015 Kia Rio
Center caps are included, lug nuts and TPMS sensors ARE NOT INCLUDED.  Why?  These are true dealer take offs, not replicas, not fakes, not from a tire shop that buys tires, switches them off rims they buy and fix.  These are not stolen.  A dealership will always reuse the oem sensors in the wheels they are taking them off and put them in the new aftermarkets they are buying from a custom shop.  They aren't going to give up nearly $400 worth of sensors for nothing.  What can you do?  Swap your sensors from your existing wheels or buy and add aftermarkets sensors which usually run about $40 per wheel.  We don't have a tire machine, we don't even have an air compressor in the warehouse.  The way they come in off a dealership lot is the way you get them.
We verify valve cores are in place as they are removed from the aftermarket shops to bleed tires down to remove the sensors.  We make sure each tire is holding at least 10 lbs of air before shipping.  You are responsible for making sure each tire is properly aired to specifications before you install them or have them installed.  This is usually done when you have the sensors swapped from your current wheels or you purchase new sensors.
Please review our terms and conditions before purchase.
Shipping.  
FREE SHIPPING TO LOWER 48 CONTIGUOUS STATES
We will ship to the lower 48 states, even though we lose money to NE states like NY, NJ even Virginia.  We ship individually wrapped with shrink wrap.  Each wheel has a cardboard face with bubble wrap to protect the wheel face.  We use UPS Ground for all our shipping or Freight.  
Shipping: to lower 48 states.  Dallas Tx area pickup available in Prosper Tx.  Please review our wheels terms and conditions page before purchase.